Subscribe
Layout comments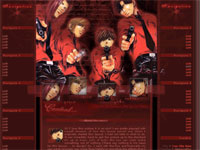 Not Alone
Date:

Oct 13th, 2004

Designer:

Series:

Comments:

Rating:

8.4 (10 ratings)
Add a comment
Sorry, you must be registered and logged in to post comments.
Comments
Vera @ 2005-04-19 09:38:22

Interesting, but it looks terrible in Firefox. The background is white and the 'table background' only goes somewhat lower than the image.
Al Pedro @ 2005-04-10 06:25:22

lol... Thanks for liking the image hahaha... I love saiyuki, but I do agree with you about the writing... although for me it is readable. it is good in 800 X 600 browser
Dark Lady @ 2005-02-06 16:09:44

saiyuki!!! my fave. but it's to dark to see anything here. i can't seem to read the text. but nice image. sanzo is so cool!