Subscribe
Layout comments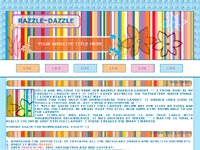 Razzle-Dazzle
Date:

May 21st, 2008

Designer:

Series:

Comments:

Rating:

8.32 (16 ratings)
Add a comment
Sorry, you must be registered and logged in to post comments.
Comments
nightingale @ 2008-10-04 03:52:40

This is one of the best layouts I've seen, it looks beautiful, especially with all the beautiful patterns. It is very lovely and unique. I can't stop looking at it. XD
katie-kate @ 2008-05-21 20:54:41

Wow! I wouldn't have thought of putting two wildly different patterns together, but they look great! I also love the navigation animation; it's not something you see often, but it makes a site memorable.